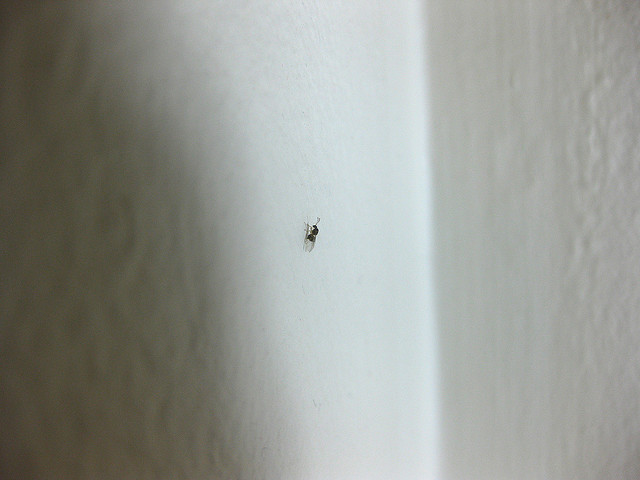 Fly on the Wall is a loose retelling of Franz Kafka's The Metamorphosis, narrated by Gretchen Yee, who feels like the dullest of girls at a creative arts school where everyone has big talents and bigger personalities. She spends her time drawing Spider-Man and crushing on the gorgeous Titus, while trying to ignore her drawing teacher, who disapproves of her comic-style work. Gretchen only has one close friend, Katya, who doesn't seem to want to hang out with her much anymore. When her parents announce their separation, she really starts to feel invisible. But then, in a moment of frustration at the apparently alien behaviour of boykind, Gretchen makes a wish that changes everything. She wishes she could be a fly on the wall of the boys' locker room.
At first, when Gretchen finds herself in fly form, it's quite funny. She
has both human and fly desires – she wants to see what the boys have
under their boxer shorts, but she also wants to sniff that
delicious-smelling wet patch on the ceiling. She watches and listens as different classes arrive to get changed, and slowly she comes to realise that boys aren't mysterious, alien-like creatures and are in fact just people. Gretchen discovers what she has in common with boys that she had never had any interest in before, observes friendly banter, and finds out what boys keep in their lockers. The story turns serious as Gretchen sees both overt and subtle forms of bullying, and learns a few secrets that change the way she sees Titus and his friends forever.
Fly on the Wall is a thoughtful and entertaining novel, from Gretchen's first few tentative moments as a fly, to the confrontations she overhears about the homophobic words that Titus's friend Adrian throws
about casually. E. Lockhart explores the dynamics of friendship beautifully, with the romantic plot giving the story impetus and direction.
E. Lockhart writes school settlings so well, and just as with Tate Prep, the Wildewood Academy for the Performing Arts, and Alabaster, I found myself absorbed quickly in the world of the Manhattan High School for the Arts. We don't really have many specialist schools in the UK but I did
go to an arts university where at times I felt a bit like Gretchen does, the plain girl amongst the peacocks.
I love it when people dress creatively so all those details were like
delicious chocolate for me.
I think that setting most of the action in the boys' locker room was very brave, as it requires the mention of certain body parts, or as Gretchen calls them, 'gherkins', but its never gratuitious and before long Gretchen becomes more absorbed in the friendship politics and injustices she witnesses and her growing feelings for one of the boys.
I loved the ending, it was great to see how Gretchen deals with things when she is back in human form, armed with her locker-room knowledge, but to say any more would spoil the story.
No surprise really, but I would recommend it Fly on the Wall to fans of YA contemporary and if you've loved any of E. Lockhart's other books, you should definitely get your hands on a copy as soon as possible!