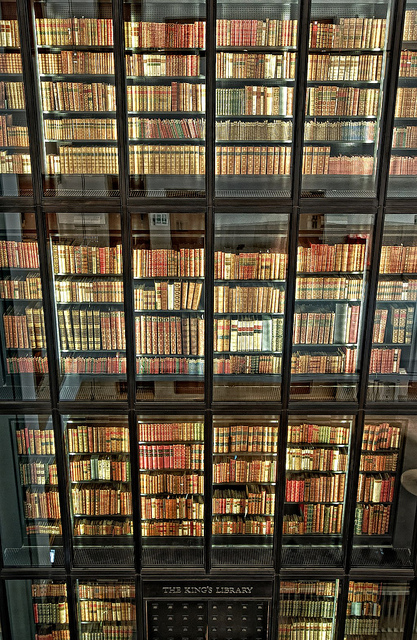 Photo by Daniel2005. The King's Library was collected by George III and given to the nation
by George IV. The rules set out at the time of the gift state that the
books in the library have to be kept together, and away from any other
collection. The King's Library is currently stored in The King's Library
tower, at the British Library, as seen in the above photograph.
Today is National Libraries Day. I have always loved libraries, having had a library card since I was just two years old. As a child, I couldn't afford to buy enough books to satisfy my love of reading, so I relied on libraries to provide an endless supply of new material. As an adult, I have used libraries when studying but also, as always, to find new worlds to visit through novels, short stories, plays and poetry.
Recently, many libraries have been closed or threatened with closure, due to council budget cuts. Some people think that libraries are unneccessary, because books can now be bought cheaply online, but I do not agree at all. Not only do libraries have more to offer than just books, but as cheap as buying books can be, nothing is less expensive than free. I believe that anyone with a voracious appetite for reading should be encouraged to keep at it, and not every reader can afford to keep buying books, or wants to download them illegally, paying authors nothing. Libraries allow everyone to educate themselves, no matter their income or their parents' income.
I think it is important that we make the most of what libraries have to offer, and make sure that other people are aware of what libraries have to offer them. To celebrate National Libraries Day, here are some of my favourite things about libraries:
1. Libraries provide books for free! An obvious one to start with, but although libraries also have many other resources available, books are the heart of libraries.
2. They are fantastic places to browse. Before I started book blogging, I used to choose books just by going to the library and checking out what was on the shelves and in displays. I like bookshops, but there isn't the same freedom to browse that you experience in libraries, where you can spend as long as you like reading a book before you decide to borrow it or not.
3. They are comfortable places to read and work. Libraries are usually quiet, and often have large tables that you can work on, and squishy chairs to relax in whilst reading.
4. Libraries host a whole range of events, from book groups to author readings. These activities are often free or low-priced, so why not investigate what your local libraries have to offer?
5. Increasingly, libraries also offer e-books and downloadable audiobooks from their websites. I don't have an e-reader but I have downloaded a few audiobooks to listen to whilst cleaning, crafting, or travelling.
6. I can use online library catalogues to track down the books I want and request them, so that I can pick them up from my local library.
7. As well as books, libraries have computers for patrons to use and a huge range of other research materials, such as local history collections and newspaper and magazine archives.
8. Three important words: inter-library loans. If my local library doesn't have the books I want, I can request them from other libraries in the system for a small fee. 15 of the London boroughs are members of the London Libraries Consortium, which means that if you belong to one library in the Consortium, you can borrow books from all of the others – and request them online. All libraries in the UK are able to order any book you'd like from the British Library, but this does cost more.
9. When books have reached the end of their library lives, they often go on sale. I've enjoyed many great books that I bought from the library for 20p!
10. Libraries pay authors! In the UK we have a Public Lending Right scheme which means that many authors get paid when their books are borrowed. 27 other countries have their own versions of PLR.
What do you love most about libraries? If you're on Twitter, you can use the hashtags #lovelibraries and #NLD13 to share your words of appreciation for libraries. @readingagency have been retweeting mini love letters to libraries all day.