It's been a great year for reading and me! I read way more books than I expected to, and (re)discovered some really fabulous authors. So without further preamble, I present:
My Top Ten Books Read in 2014 (in the order I read them)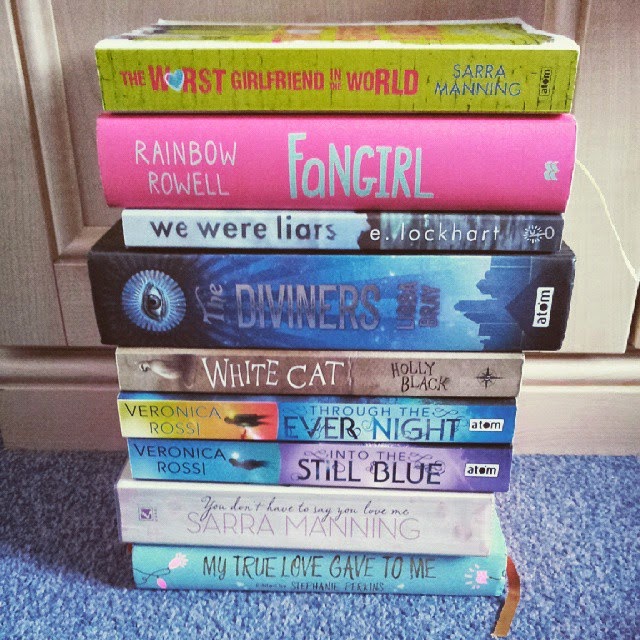 1. The Worst Girlfriend in the World, by Sarra Manning
Sarra Manning is one of my favourite authors of all time so it was no surprise that I adored this. I loved it so much that when I finished reading it I wanted to start over again from the beginning! I think fans old and new will find plenty to love about this novel, which follows the (mis)adventures of would-be fashion designer Franny and her best friend Alice, from tiny seaside town to big city.
2. Adaptation, by Malinda Lo


Need the sequel, like, yesterday. Cool twist on the love triangle. And (redacted spoilery thing)!
I FINALLY got around to reading Fangirl, and I loved it. If you want to read a story about fanfic and university and first, incredibly awkward romantic adventures, you should definitely read Fangirl.
4. We Were Liars, by E Lockhart
This is actually my least favourite E Lockhart book. But that still makes it better than most other books. Winner of the Goodreads Choice Award for YA, barely a day has gone by without someone gasping excitedly about it on Twitter.
5. Murder Most Unladylike, by Robin Stevens
Boarding school! MURDER! Friendship! Bunbreaks! MURDER!
6. The Diviners, by Libba Bray
This is so gorgeous I swooned over almost every page. I had mixed feelings about the Gemma Doyle trilogy by the end (although overall I loved it) but it looks like The Diviners will avoid all those issues. Thrilled that the sequel is coming out next year!
7. White Cat, by Holly Black
I love this series and this is one hell of an opener. The magic system is unique and the characters vivid and real. Very much recommended.
8. Through the Ever Night/Into the Still Blue, by Veronica Rossi
I loved both the second and the third books in this trilogy, which began with Under the Never Sky. Aria is one of my favourite protagonists ever.
9. You Don't Have To Say You Love Me, by Sarra Manning
This book was highly hyped and with good reason. It was published in 2011 but it took me this long to read it as I was hoping to find the *good cover* in a bookshop (I don't trust online shops to send me the right one!). Eventually I gave up and borrowed it from the library, and I'm very glad I did as I needed Neve, Max, Keith and all their family and friends in my life.
10. My True Love Gave To Me, edited by Stephanie Perkins
Finally a short story collection by novelists that isn't mediocre! A wonderful diverse seasonal anthology that stole my heart and wrapped it in tinsel.
Honorary mentions go to two non-fiction books (I didn't read enough non-fic for a proper non-fic list): The Bookshop Book, by Jen Campbell, though I still have a few pages to read, and Story, by Robert McKee – my god, I finally understand plotting thanks to this book!
Last year I did my top books list in a Bookish Brits video:
This year, we have done a series of videos talking about our favourite 2014 books in different categories. To watch, just press play below:
Did any of these books make it onto your top ten?