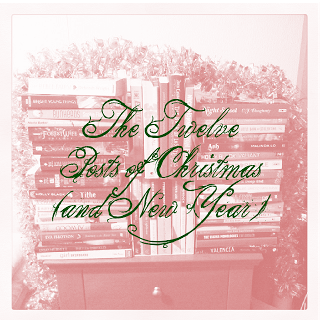 Hello and welcome to the first in a series of posts I will be doing to get myself (and hopefully you) in the festive mood. I love Christmas. I'm not religious, but I love the season. I live in the northern hemisphere, so Christmas is a bright glittery spot in the middle of gloomy wet winter, and I try to make the most of it.
NaNoFiMo is over, and I've finished the first draft of my novel  (more on that in another post), so I'm going to take a little break and read lots of books, to remind myself what good novels feel like to read and help me get in the mood for editing. I'm tempted to make some of those books Christmassy, as tis the season, after all! I've ordered Let It Snow for the Bookish Brits December Book Club, and since reading and loving Cold Comfort Farm, I've really wanted to read the short story 'Christmas at Cold Comfort Farm', a prequel, too.
So I started to think about my favourite Christmasses in books, and quickly decided that would be the topic of my First Post of Christmas.
When I was a kid I read Little Women several times, and the story begins just before Christmas. I loved reading about how the March girls and Marmee spread Christmas cheer, though they are a bit sickeningly sweet and self-sacrificing. I much preferred reading What Katy Did at School. Katy and her sister Clover are at boarding school and decide not to go home for Christmas at the journey takes three days each way. Instead they receive 'Christmas boxes' from their families, full of presents and flowers and delicious-sounding cakes. I used to read this scene over and over again and attempt to recreate it by finding things I owned that were similar to Katy and Clover's presents, wrapping them up, putting them in a box, and then opening it all again! It's my favourite part of the entire novel and must be at least partly responsible for my love of recieving parcels in the post!
A more recent read was Rebel Angels, by Libba Bray, which is set in the Victorian era and of course it was the Victorians who lay the foundations of Christmas as we know it – inventing greetings cards and enjoying seasonal parties. I loved the historical detail in this book – the balls and other events, as well as the Christmas shopping! I also loved the Christmas scenes in Adorkable – when Jeane went to stay with the Lee family I almost exploded from the cute overload.
What about you? What are your favourite Christmasses in books? If you don't celebrate Christmas, how are the festivals you enjoy portrayed in books? Any recommendations? I'd love to know.