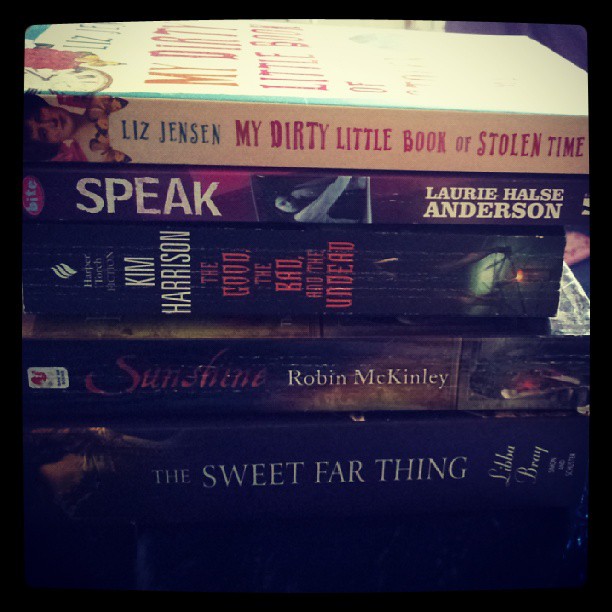 Which of these books do you think I should read next? Leave me a comment and help me choose!
Fictional Scenes I Want to Live at So Many Books, So Little Time got me thinking. I'd also love to visit Hogwarts, be Edie for that scene in the Louvre, and go to all manner of 1920's parties.
I loved Eleanor Wood's guest post at Fluttering Butterflies – it's like she read my mind, I relate so much to her experience of being a teenager. I will have to read Gemini Rising.
I could have written most of this post myself: Things I'm Afraid To Tell You – A Book Blogger Confesses ALL! I am gradually reading and posting more but I'm never going to be one of those bloggers that posts a review every day, or even every other day. I have too many other interests and I love list posts! Reviews, though important, are less entertaining to write and promote.
Can you work out which books are featured in the YA Contemporary Covers Quiz?
Onto my favourite reviews! I have so many this week – thanks to some determined Feedly-reading – that I'm just going to list them.
Severed Heads, Broken Hearts, by Robyn Schneider, at So Many Books, So Little Time
Dangerous Girls, by Abigail Haas, at Writing from the Tub
The Beautiful and the Cursed, by Page Morgan, at Lunar Rainbows
The Savages, by Matt Whyman, at Wear the Old Coat
Burn Bright, by Marianne de Pierres, at The Pewter Wolf
Dead Jealous, by Sharon Jones, at Fluttering Butterflies
Ocean of Secrets, by Aimee Friedman, at Cicely Loves Books
Deception, by C.J. Redwine, at Auntie Spinelli Reads
Anatomy of a Boyfriend, by Daria Snadowsky, at Once Upon a Bookcase
Weirdos vs. Quimboids, by Natasha Desborough, at SisterSpooky
See You At Harry's, by Jo Knowles, at Readaraptor
OCD Love Story, by Corey Ann Haydu, at Rather Be Reading
The Distance Between Us, by Kasie West, at Quinn's Book Nook
Finally, 12 Onomatopoeias from Around the World – is it just me or is 'ghrutu ghrutu' a much better approximation of the noise a pig makes than 'oink oink'?