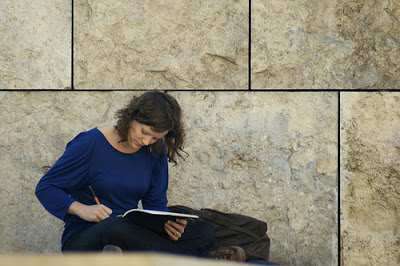 When Nicola Lancaster arrives at the Siegel Institute Summer Program for Gifted Youth, she doesn't plan on making any friends. Her only goal is to find out, by taking the archaeology class, whether she actually wants to be an archaeologist or not. She spends the introductory lecture drawing and writing notes about the other students, but Katrina sees her sketches and grabs her notebook, passing it around to some of the other students. It's easy for Nicola to be friends with excited, friendly, Katrina, but she finds Battle Hall Davies more confusing, intriguing, and beautiful. Nicola is plain and boring, or so she thinks. Battle could never be interested in her…but of course she's wrong.
A book about a girl who has decided to spend the summer at, well, school, may not sound exciting, but I really enjoyed Empress of the World. It's quite a short book, with only 214 pages, yet it covers Nicola's entire time at the Siegel Institute. It's written in sections that have the date, time and location at the top, like diary entries, and there are quite often several days between these reports, which sometimes include passages in a handwriting-style type, like actual diary entries. Sometimes the gaps were a bit off-putting, but Nicola usually summarises what she's been doing. I really liked the characterisation, Nicola was an engaging narrator, and I thought Katrina was fantastic, her weird fashion sense making her definitely my favourite character. The minor characters were nicely drawn, but not so intriguing that I wished they were the focus of the story instead. I have to confess that I didn't entirely understand why Nicola liked Battle so much for much of the book. I think her personality was overshadowed somewhat by Katrina's, it seemed less clear, but maybe that's the point. She is supposed to be mysterious, someone that Nicola can't quite work out. In the end I was rooting for Nicola to get the girl, anyway!
This is one of those books that I read and then thought "Was this really supposed to be controversial?". Okay, there's some drinking. And Nicola and Battle are both girls, and their relationship does get physical, off the page. But they're at a summer camp for intelligent, studious teenagers! And they all do their homework! Some people's children.
I wouldn't say Empress of the World is a must-read, it's a nice way to spend an afternoon or two, but I didn't find it to be unputdownable. I don't think it's supposed to be a thriller, but it's a gentle story of self-discovery and romance, not an emotional rollercoaster ride that keeps you turning the pages.
Sara Ryan has also written comics featuring Battle and Katrina: Me and Edith Head, a prequel to Empress of the World starring Katrina, and Click, which is about Battle with a small appearance by Katrina, and takes place in the time between Empress of the World and the sequel/companion book, The Rules for Hearts. I definitely want to read The Rules for Hearts – it sounds like a good story, and I think it would help me understand Battle more.