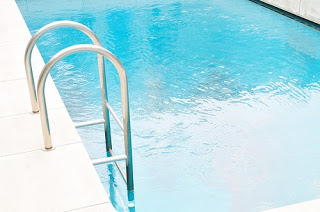 Every Thursday, Collette goes swimming. She loves the water, the exercise, the way it makes her feel. But most of all she loves watching a boy, whom she calls Achilles, because he has the body of a Greek god. She's too nervous to speak to him – until one week she literally runs into him in the changing rooms. Next time they get talking, and it turns out his real name is Art, short for Arthur, and he likes Coll.
They start going out on dates, and Coll is swept up into Art's world. She can't spend enough time with him. He's got looks, money and confidence, but horrible friends and a messed up family. Coll's friends don't like Art much, and neither does her proudly feminist mother. Coll manages to ignore all the negatives until Art starts to expect too much too fast. Coll has never had sex before and wants to feel completely ready for it, whereas Art has had dozens of meaningless sexual relationships…
I enjoyed reading Diving In. The characterisation is strong, especially when it comes to the main characters' family backgrounds. Coll and Art have very different families and the way their upbringing impacts on their relationship is brought into the story really well. Coll's feelings develop at just the right pace, and there are also some funny moments to lighten the tone when it starts to get issue heavy. The central issues of this novel are teenage relationships and sex, and this book has the potential to help teenage readers in relationships to know when they are ready, and to recognise when they are being pressured into going further than they want to go.
Being an old fogey in my twenties now, I'll admit, I didn't get as much out of Diving In as teenagers could and I did find myself getting a little tired in places as the plot revolves around Coll's relationship with Art so much.
Diving In is the first book in a print trilogy, the first in a quartet if you include Art History, which is partly a retelling of the books from Art's point of view as well as the conclusion to their story. Diving In doesn't really stand on its own, to get the full story you have to read – and should want to- the other books. Art History used to be available to read free on Kate Cann's website, but it's been taken down as Kate is going to add more material to it before it is published! Exciting! Kate Cann writes brilliantly from the point of view teenage boys, I absolutely loved the Hard Cash/Moving trilogy when I read them as a teen. I need to re-read those, but I'm not sure my library still stocks them and I don't like the new pinkified covers!
My review of Leader of the Pack, also by Kate Cann.