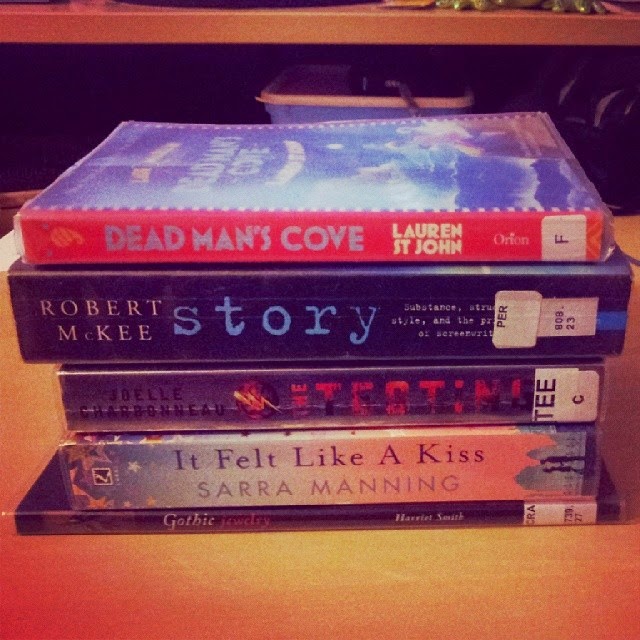 Books I've recently borrowed from libraries! Very excited about all of these.
Saturday was UKYA Day, and several bloggers posted to celebrate:
Michelle at Fluttering Butterflies posted a list of her Favourite UKYA Characters. I love Lyra and Hagrid but to my eternal shame I haven't read the other books mentioned. Well, maybe not eternal shame, as I might get around to reading them someday…
Raimy at Readaraptor wrote about her favourite UKYA authors. I've read two out of the four mentioned, so I'm doing slightly better there.
Cicely of Cicely Loves Books posted a simply amazing list of UKYA Recommendations For The Uninitiated ordered by genre, which is a must read if you're new to UKYA or want more specific recs.
Kath at Sensitivity and Flair listed Six Reasons You Should Be Reading UKYA, I agree with them all!
Andrew at The Pewter Wolf shared his excitement about all the UKYA books on his TBR, and so did Stacey at prettybooks.
I really liked Jim at YA Yeah Yeah's Joint Interview on Hybrid Publishing – Part 1 (and Part 2), I went to a lot of seminars at London Book Fair about self-publishing and came away feeling really inspired. Although I
do want to traditionally publish the YA novels that I'm writing, I have
been thinking about writing a New Adult series for a long time, and
I'll probably self-publish that.
Jim also posted In Praise of Non-Gritty UKYA.
Some writers got in on the action too – Keren David wrote a fab post about her heroes of UKYA and Eve Ainsworth wrote about her UKYA inspirations.
In other news:
If you watch my Bookish Brits videos you'll remember that a while ago I filmed a video about my inability to decide how to organise my bookshelves, Getting My Shelves in Order. I'm still trying to decide so I loved reading the comments on Daisy's post about bookshelf organisation at The Broke and the Bookish!
Jo at Once Upon a Bookcase posted about Novels With Intersex Characters for her LGBT+ Month.
Finally, My Encounter with a Book Snob by Courtney at Literary Escapism made me laugh out loud!
If you've posted something that you're really proud of recently and I haven't included it in this list, please do tell me about it in the comments!