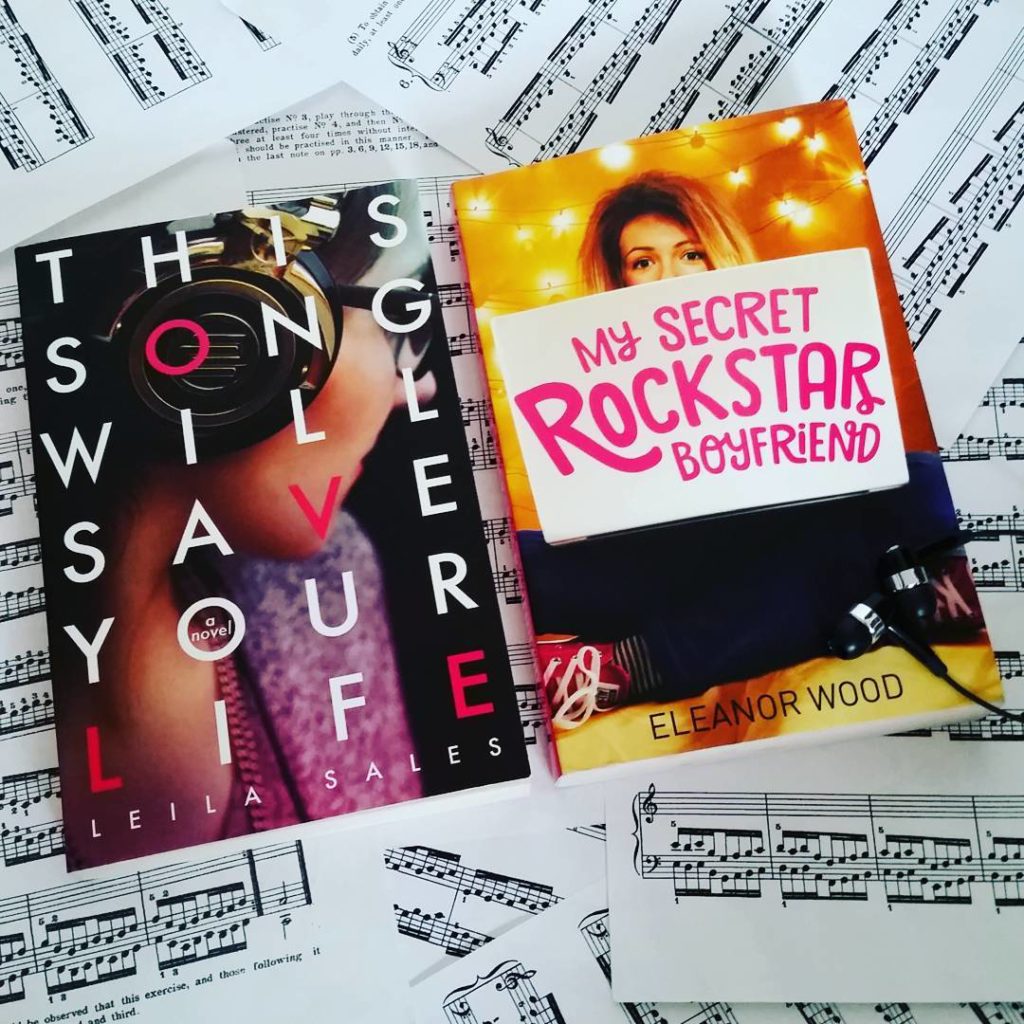 Today in honour of World Music Day (aka Fête de la musique) I thought I'd share some of my favourite novels involving music! I've split them into two themes:
Girls in Music
My Secret Rockstar Boyfriend by Eleanor Wood
Tuesday Cooper is an aspiring music journalist who starts getting comments on her blog posts from someone claiming to be Jackson Griffith, her rockstar crush. She is extremely sceptical, as so far only her best friends, her boyfriend, and her mum have read her blog, but to her absolute surprise, it turns out to be real, and after exchanging emails he invites her to meet him at Glastonbury. I loved how much Tuesday, who starts off as a bit of a pushover and quite naïve, grows up thanks to this adventure. It's a fun YA read.
Buy: Amazon (affiliate link)
Becoming Betty by Eleanor Wood
From the same author, a story of an attempted reinvention gone wrong! When Lizzie starts college she is determined to finally become cool, with a new look and a brave new personality. So when Viv, the lead singer in a local band, starts talking to her, she's delighted – until Viv decides she should be their new bassist. Lizzie – or Betty, as Viv renames her – is horrified by this idea, but doesn't want to let Viv down, so she throws herself into learning to play, and ends up falling in love with the instrument. Like My Secret Rockstar Boyfriend, it's about music as a path to developing self-confidence and learning to stand up for yourself.
Buy: Amazon | Bookshop.org (affiliate links)
Guitar Girl by Sarra Manning
A YA classic, I'm always stumbling over groups of women online reminiscing about this book. It came out in 2003 when I was a year younger than the protagonist, Molly, when she started the band, which made it all the more engaging to me back then! Like many real girls and YA protagonists before and since, Molly started a band, The Hormones, in the hope of becoming cool. But two years later, she's being sued by her record company for 5 million pounds. Her lawyer asks her to write the story down, and that's how we learn about the boys that negged their way in, their manipulative manager, and how it all went tragically wrong.
Buy: Bookshop.org (affiliate link)
This Song Will Save Your Life by Leila Sales (review copy provided by the publisher several years ago)
Outsider Elise is painfully lonely, desperate to be noticed and loved and torn between her recently-divorced parents. When, one night she discovers a secret nightclub one night, it's like stepping into a whole new world of music and glamour. There she finds the friends she's been looking for and a new talent as a DJ – but can she keep the magic going, or will the problems of the real world creep in? I read this back in 2016 and I'm still obsessed by the idea of the secret nightclub!
Buy: Amazon | Bookshop.org (affiliate links)
Jem and the Holograms, Vol. 1: Showtime by Kelly Thompson and Sophie Campbell
This is the first in a comic series based on the 80s cartoon about all-girl band Jem and the Holograms and their rivals The Misfits. It's fun and ridiculous (especially when they go to an alternate dimension in one of the later issues!) and Sophie Campbell's art is completely adorable, especially the way she draws Stormer. This also qualifies for 'musicians as romantic hero(in)es'!
Buy: Amazon | Bookshop.org (affiliate links)
Daisy Jones & The Six by Taylor Jenkins Reid
This is an unputdownable/unpauseable (the audiobook is fabulous) fictional oral history-style novel about a sixties supergroup that split under mysterious circumstances. Different members of the band, The Six, tell their versions of the story of how they got together and became famous, alongside managers, other people they worked alongside, and Daisy Jones, formerly a solo artist before joining up with The Six. It's the sort of book where you have to decide what you think really happened, putting together clues and trying to dodge misdirections, and it's extremely compelling.
Buy: Amazon | Bookshop.org (affiliate links)
Musicians as romantic heroes
Love Song by Sophia Bennett (proof copy provided for review by the publisher several years ago)
This is one of my favourite romances of all time and probably my favourite YA romance. I adored it. Nina, an ordinary seventeen year old from Croydon, takes her little sister to a meet-and-greet with The Point, a hugely famous boy band, and ends up being recruited to be the lead singer's fiancée's new assistant while they go on tour. Despite this unusual scenario, it's an utterly believable, absorbing story, and it captured my heart and imagination.
Buy: Amazon (affiliate link)
If Every Day Was Christmas by Donna Ashcroft
Meg is the owner of a year-round Christmas shop in Scotland. Tom is a runaway pop star – his band had a Christmas hit that made his fortune but now haunts him. He's hoping that hidden away in the Highlands, he can live a quiet life, but Meg has other ideas and is determined to make him feel festive. A very cute romance, with some family drama on Meg's side to add dimension.
Buy: Amazon | Bookshop.org (affiliate links)
One Christmas Star by Mandy Baggot
London primary school teacher Emily is determined to impress her headteacher and become deputy head, but when she's told to organise the Christmas musical, she panics – she has no musical ability. Fortunately, she discovers Ray Stone in the school shed, a famous singer-songwriter who is currently drowning in bad press. As they help each other out, romance blossoms. This book set me on the path to Mandy Baggot fandom, and is a funny, lovely, Christmassy read.
Buy: Amazon | Bookshop.org (affiliate links)